Search found 99 matches
by Hamjam

Fri Jun 23, 2017 6:40 pm
Forum: New version announcements
Topic: New lootbox
Replies: 11
Views: 4162
Hello there! Last night we implemented and tested new lootbox in game - a crate containing 3 random items nowhere else to be found. We were planning to add that for a long time, even had most of it ready, but we thought that new quests are more important for the gameplay, so the lootbox landed on t...
by Hamjam

Thu Jun 15, 2017 11:05 am
Forum: Off-topic
Topic: Mob area Map
Replies: 4
Views: 4605
As title i make map with description what mob that spawn on that area, i hope it can help new player to plan strategy, this also my first post so if there language error i sorry because engglish is not my language. omega vaninitas map.jpg Nice! Cannot wait for the medium termite or maybe even a que...
by Hamjam

Thu Jun 15, 2017 10:56 am
Forum: New version announcements
Replies: 23
Views: 7815
Hello there. We know we went silent for a while but we want to assure you that whole this time we were working on new content for the game. Also developing the game in such a small crew ain't easy and after releasing it and spending a month on non-stop bug removing and taking feedback we kind of ne...
by Hamjam

Tue Jun 13, 2017 4:55 pm
Forum: Suggestions and new ideas
Topic: Healing others
Replies: 6
Views: 1362
Totally agree - I actually discussed this during alpha testing, and was basically told that the plan was to eventually implement the ability to use healing items on other players. Obviously, there are details to work out; for example, you would not want people to be able to kill each other with dir...
by Hamjam

Tue Jun 13, 2017 4:54 pm
Forum: General information
Replies: 18
Views: 5343
The OV GM team is happy to announce the Jr. GM status of Aegis. He is currently learning the specifics of how to fill this new role, and has already proven to be a valuable asset to the team, the game, and to the OV community. As a Jr. GM, he still has a white name in game, but will be joining the ...
Greetings, So aegis specifically asked for working suggestions. Here are a few of mine: 1. Outlaw status is persistent for 1 week. Period. Only way to escape this might be a robber baron type situation. Steal from the rich. Give to the poor. This would be difficult to implement. I see no real way fo...
by Hamjam

Tue May 23, 2017 7:50 pm
Forum: Help wanted
Topic: Basic Labeled Map.
Replies: 14
Views: 5124
Hey all.
I figured I would make a labeled map with some points of interest for new players and just as a reference point. Any ideas or suggestions are very much welcomed.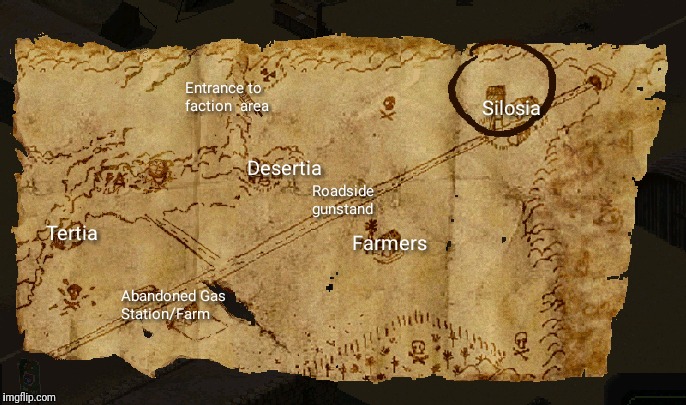 by Hamjam

Sun May 21, 2017 11:49 pm
Forum: Off-topic
Replies: 5
Views: 2035
Engine and mechanics are based on FT, but the style and topic comes similar to the original Fallout series ( 1,2 and 3 tactics, from Interplay) example of a screen in Fallout 1 FoD_Scrapheap.png While I do love the way the fallout series has gone since '97. Interplay had it down 20 years ago an thi...
by Hamjam

Fri May 19, 2017 4:20 pm
Forum: Suggestions and new ideas
Topic: Role items
Replies: 8
Views: 2444
right now and in future, seems a better idea to define your class by the skills and especially the stats. This I agree with. Stats/skills define your path with possible items to slightly boost that path is the idea I like. Also as pill master stated he does not want to defined by a role. I doubt it...